God Bless You Mister Miller
Goodness Gracious,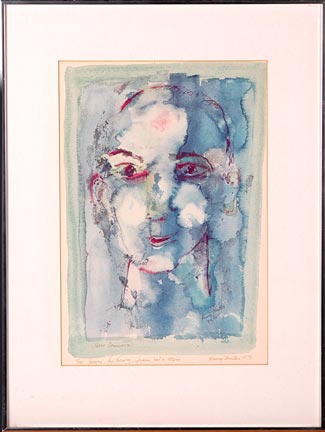 I was reminded recently of the Henry Miller biopic "Henry and June".
The film is really a disturbingly flawed masterpiece. Generally derided, Phillip Kaufman's screen adaptation is based on the writings of Anais Nin, but tells the story of Miller's Paris years. The film features some great sexual energy between June (Uma Thurman) and Anais (Maria de Medeiros), a really charming Burt Ward as Henry, and the always fantastic Richard E. Grant. The film sparkles with loving homages to Dreyer's Joan of Arc, Un Chien Andalou, and the photography of Brassai.
In addition, the film became the first NC17 rated movie, winning an important war with the MPAA ratings board. Given the ground/taboo breaking nature of Miller's books, I suppose its only fitting that a film about the man would be surrounded by controversy, and freedom, and joy.
Here is a report from Siskel and Ebert about the film, and its history.
For those of you interested in new music, my new CD - Blue Turns Black - will soon be available on ITunes (USA, UK/Europe, Canada, Japan), Napster, Emusic, Rhapsody, and Amazon.
Check out the links below to preview the new CD, enjoy free downloads from my previous releases, and explore this site.
Be gentle in your sleepy hands on this world.
Be a killer in Heaven.
Love,
Joe Nolan
Open this browser-based player and preview Joe's entire new CD
"Blue Turns Black"
Listen to Joe's music, and enjoy free downloads here!
Support this site! Buy Joe's Music! ...