Throw the Elbow!
God bless us every one,
Had so much fun posting yesterday that I decided to scribble/scrab a bit more on this here e-lectronic diary.
I am watching Uriah Faber fight a WEC match against Jens Pulver. Faber is one of the most exciting fighters in mixed martial arts,
but my favorite fighter is still Miquel "Angel" Torres.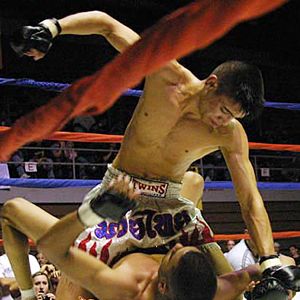 I have become a huge MMA fan, and really love the skill and intelligence involved in the strategy of each match. I have always - and still do - love boxing as well. I can't wait to watch some great matches in this year's Summer Olympics.
As many of you know, I am a huge critic of China and their appalling record on human rights. If you want to see an interesting film that outlines the collision between China's new industrial "prosperity" and the bleak life of its regular citizens, perhaps you would enjoy "Up the Yangtze".
This film is currently playing at Nashville's great art-house,
The Belcourt Theatre
.
Here is the trailer:
Here is an interview with the director at Sundance. He describes "'Yangtze" as "The Love Boat meets Apocalypse Now"...not quite...but still a funny thing to say...
In other movie news, watch this short film by Chris Rubin de la Borbolla, featuring my song REvolution:
In other music news, my new CD - Blue Turns Black - will soon be available on ITunes (USA, UK/Europe, Canada, Japan), Napster, Emusic, Rhapsody, and Amazon.
Check out the links below to preview the new CD, enjoy free downloads from my previous releases, and explore this site.
Be gentle in your sleepy hands on this world.
Be a killer in Heaven.
Love,
Joe Nolan
Open this browser-based player and preview Joe's entire new CD
"Blue Turns Black"
Listen to Joe's music, and enjoy free downloads here!
Support this site! Buy Joe's Music! ...