The Sleepless Film Festival Presents - Once Upon a Time: The Films of Jean Cocteau
The Sleepless Film Festival Presents - Once Upon a Time: The Films of Jean Cocteau
Jean Cocteau was a poet, novelist, visual artist, screenwriter, actor and film maker. An early pioneer of surrealist film, Cocteau's work as a writer/director left an indelible impression on cinema, and continues to confound and inspire film makers and audiences alike.
Cocteau himself always insisted that he was an amateur when it came to film making.
From the
Jean Cocteau website
:
The French poet, writer, artist, and film maker Jean Maurice Eugene Clement Cocteau was born to a wealthy family on July 5, 1889 in a small town near Paris, France. Cocteau's father committed suicide when he was about 10 years old.
In 1900, he entered a private school and was expelled in 1904. After his expulsion from school, Cocteau ran away to Marseilles where he lived in the "red light district" under a false name. Police discovered him in Marseilles and returned him to his uncle's care.


At the age of 17 or 18, Cocteau fell in love with an actress named Madeleine Carlier. She was 30 years old at the time. She later ended the relationship.
In 1908, Cocteau associated himself with Edouard de Max. De Max was a reigning tragedian of Paris stage at this time. De Max encouraged Cocteau to write and on April 4 of that year rented the Theatre Femina for the premiere of the young writer's poetry.
In 1909, Cocteau met the Russian impresario Sergey Daighilev who ran the Ballets Russes. Daighilev encouraged Cocteau to venture into the genre of ballet. The Russian challenged Cocteau to "Ettonne-moi" (Surprise me). The remark pushed Cocteau to write the libretto for an exotic ballet called Le Dieu Bleu. During this time, Cocteau also met composer Igor Stravinsky who was working on his composition The Rite of Spring. In the spring of 1914, Cocteau visited Stravinsky in Switzerland. It was during this visit that Cocteau finished his first book, Le Potomak.
The First World War broke out in the summer of 1914 and though Cocteau never served in the military, he did help run an ambulance service. He acquainted himself with a group of marines. Cocteau was arrested and returned to civilian life in 1915.
In 1917, he met Pablo Picasso.

Cocteau and Picasso went to Rome where they met up with Diaghilev. At this point, Cocteau helped prepare the ballet Parade. Picasso designed the sets, Erik Satie wrote the music, and the ballet was choreographed by Leonide Massine. The Paris opening in May of that year was a disaster. A few years later the ballet was successful.


After the war Cocteau continued his association with several well known artists. He founded a publishing house called Editions de la Sirene. The company published Cocteau's writings and many musical scores of Stravinsky, Satie and a group of composers known as Les Six.
In 1918, Cocteau formed an intimate friendship with a 15 year old novelist, Raymond Radiguet. Radiguet strongly influenced Cocteau's art and life. The young writer would die from typhoid fever in 1923. His death was a severe blow to Cocteau and drove him to use opium.

During Cocteau's recovery from his opium addiction, the artist created some of his most important works including the stage play Orphee, the novel, Les Enfants terribles, and many long poems.
In 1930 Cocteau's first film, Blood of a Poet was released. The film was a commentary on his own private mythology. Cocteau designed the work concerning the adventures of a young poet condemned to walk the halls of the Hotel of Dramatic Follies for his crime of having brought a statue to life. In the early 1930's, Cocteau wrote what some believe is his greatest play, La Machine Infernal. The play was a treatment of the Oedipus theme. Cocteau also wrote La voix humaine(1930, The Human Voice), Les chevaliers de la table rounde (1937, The Knights of the Round Table), Les parents terribles (1938, Intimate Relations), and La machine a ecrire (1941, The Typewriter).


During the next 15 years the artist's work lapsed. One reason for this is his recurring addiction to opium. His return to work in the early 1940's was primarily due to the influence of his close friend, actor Jean Marais.
In 1945, Cocteau directed his adaptation of La Belle et la Bete (Beauty and the Beast). The film marked a triumphant return of Cocteau to the screen. Marais starred in the film as the Beast, Beauty's suitor, and the Prince.


In the late 1940's, Cocteau adapted two of his plays to film; The Eagle with Two Heads and The Storm Within.
In 1950, Cocteau directed the film Orpheus which again starred Marais. This time the theme revolves around a poet beset by artistic and romantic rivals. When his wife dies, Orpheus descends to Hell to rescue her. In Hell, Orpheus' fate is determined before a tribunal. Also in 1950, Cocteau used his artists' eye to decorate the Villa Santo Sospir in Saint-Jean-Cap-Ferrat and begin a series of graphic works.
In 1954, on the death of his friend Collette, the novelist, Cocteau took her place in the Belgian Academy. In 1955, he was elected to the French Academy.
In 1959, Cocteau made his last film as a director, The Testament of Orpheus. The elaborate home movie stars Cocteau and also features cameos from many celebrities including Pablo Picasso, Yul Brynner and Jean-Pierre Leaud.


The artist died of a heart attack at age 74 at his chateau in Milly-la-Foret, France on October 11, 1963 after hearing the news of the death of another friend, the singer Edith Piaf.
Jean Cocteau: Autoportrait d'un Inconnu (Self-Portrait of an Unknown Man)

This is not a film by Cocteau, but it is a film
about
his life and art, and one gets the feeling that Monsieur had a lot of input on how his story would be presented.
This film was released in 1985, with a duration of 66 minutes.
La Villa Santo Sospir


Shot in 1952, this 35 minute, color film is a home movie of sorts, taking viewers on a tour of the home of Cocteau's friend.
The Villa is located on the coast of France, near the locations where the Testament of Orpheus would be shot. In addition, as Cocteau takes us on a tour of the rooms, we are treated to a visual suprise: all the rooms are decorated by work from Cocteau, Picasso, and we even see paintings by Jean Marais, The Beast from La Belle et La Bete, and also Cocteau's lover.
A remarkable document, this is a rare case where Cocteau's cinematic curiosity leads to a deeper understanding of his painting and drawings, and not the other way around.
Le Sang d'un Poete (The Blood of a Poet)


Released in 1930, Cocteau's debut feature film is the first chapter in his Orphic Trilogy, completed in 1960 with Le
Testament d'Orphée (Ne Me Demandez Pas Pourquoi!). The premiere of Blood was delayed by the fall-out over the Parisian premiere of Bunuel's L'Age d'Or, where fascists threw ink at the screen and slashed the surrealist paintings in the theatre's lobby.

It is correct to think of Blood as a part of the early pioneer efforts of surrealist experimental film, however - in the case of Cocteau particularly - his early films are like notepads that document the gathering-together of his symbol horde: reverse film, wall-walking, mirrors, animating the inanimate, personification of objects. Many of Cocteau's visual themes are discovered in Blood, and come to full flower in later work like La Belle et La Bete.

Blood can be a challenging watch. It is loosely narrative at best and can seem like an hour-long technical experiment. I would submit that - although there is some truth to these criticisms - viewers should attempt to think of Blood more as a poem than a story.

It is a symbolist fable: a ritual that populates the theme of the birth of the poetic conscience with characters and gestures.




La Belle et la Bete (Beauty and the Beast)
Belle:
Don't be a coward; cling to life. You must fight death!
La Bete:
Belle, if I were a man, perhaps I could do as you say. But the poor beasts who want to prove their love can only grovel on the ground and die.
-
From the screenplay for , La Belle et la Bete by Jean Cocteau
Arguably Cocteau's masterpiece, La Belle et la Bete is - like all great fairy-tales - a story told on many levels. It is a story that could mesmerize a child, even in our less-than-innocent age, but - like much of Cocteau's work - it is also conceived as a ritual vehicle of transformation. In this case, the transformation of his all-too-adult audience back into carefree youngsters, if only in their heart's.
From the film's opening credits:
"Children believe what we tell them, they have complete faith in us…
I ask of you a little of this childlike simplicity, and to bring us luck,
let me speak four truly magic words,
childhood's 'Open Sesame,'
'Once upon a time….'"
The Testament of Orpheus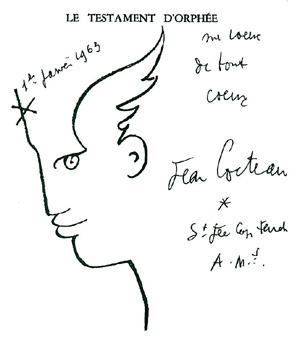 Filmed in 1979, Testament is the third and final film in Cocteau's Orphic Trilogy. It was also Cocteau's last film. At marked contrast to the two earlier chapters in the series, Testament usually suffers by comparison, especially after the stunning middle-chapter, Orpheus.
Actually,Testament is ground breaking in its blending of reality and fantasy. Unlike the two earlier chapters in the trilogy, Testament revolves more strictly around a loosely conceived plot, featuring Cocteau himself encountering any number of characters from the series as well as those pulled from numerous other myths and legends. In addition, Testament features friends like Pablo Picasso and Yul Brynner also Cocteau's partner and frequent actor, Jean Marais.
Are we watching Cocteau playing a character, journeying through a magical world, or is this a farewell of sorts by an aging artist, surrounding himself with friends, family and his own creations, brought to life to acknowledge their creator?
Probably both.
Certainly neither.
Like all of Cocteau's work, Testament refuses simple interpretation. As an audience, we are left to wonder.
What greater gift can an artist give?
Please see Tracy Twyman's excellent
article
about Cocteau, his life, art and possible connections to the Holy Blood, Holy Grail conspiracy.
Be humble in your sleepy hands on this world.
Be a killer in Heaven.
Love,
Joe Nolan
Preview Joe's new CD
"Blue Turn Black"
Listen to Joe's music here!
Help to support this site! Buy Joe's Music! ...
Labels: joe nolan, sexy, sleepless film festival