It Takes a Woman...
Yo Pims!
It is Summer in the South, but this morning the air is still cool and wet as I sit to write these thoughts by the ebb and flow of the rush hour tide that zooms outside my window on this here Street of Dreams...
Hey! Let's watch a Lou Dobbs/Ron Paul
video
!
Wow how about those maniac elites???
I want to find out more about
The New World Order
...
Wow, so at the end of the day, the most important thing - IMHO - is getting to a point whereby one can understand that Evil Men will stop at nothing to rule the world...
Do you really think that countless dead in Iraq and Afghanistan, the victims of 9-11 and any other number of civilians would stand in the way of what is the greatest power grab of all time?
George Bush, Bill Clinton, Rudy, Dick and the rest of these criminal thugs do not equate themselves with common Americans like you and me. George Bush is the Prince Son of a King, and his loyalties are far more deeply enmeshed with other Global Princes like Osama Bin Laden than they are connected The American People...
Press
Play
...
I want to live out my life and follow my personal dreams. I may want to have a wife and family one day. I certainly care deeply for the family and friends I have now and I hate to think of what will become of us all on the day that the boot really comes down...but it will...and it's a lot easier to make your mind up now than it will be then.
In the meantime, blogging, spreading the world doing independent journalism, making films all of these activities are aimed at fighting now with ideas, so we won't have to fight later...
Another thing that is helpful is an example to follow. When you are up against insane murderers like the one's who are currently running this country, its only natural to feel afraid. That's why it's so easy to not really admit it to yourself.
Take comfort in the deeds of those who have come before you...
Joan of Arc was born in 1412. Her hometown was Domremy, a little village in France. Jacques d'Arc, her father, was a hard working farmer. Her mother was gentle and loving. She taught Joan many practical things. "I can sew and spin as well as any woman," she once said. Joan loved to pray, especially at the shrines of Our Blessed Mother. This honest little peasant girl was to become a heroine. One day while she was watching her sheep, St. Michael the Archangel, the patron of her country, told her, "Daughter of God, go save France!" For three years she heard the voices of saints calling her to action. When she was sixteen, she began her mission. At that time, there was a war going on between France and England. It was called the Hundred Years' War. England had won so much French land that the king of England called himself the king of France, too. The real French king was weak and fun-loving. He thought the French armies would never be able to save the country. With his permission, St. Joan led an army into the city of Orleans, which the English had almost captured. In her white, shining armor, this young heroine rode with her banner flying above her. On it were the names of JESUS and MARY.

She was hit by an arrow in the great battle of Orleans, but she kept on urging her men to victory. At last they won! St. Joan and her army won more and more battles. The English armies had to retreat. After the victories, Joan's time of suffering began. She was captured by the enemy. The ungrateful French king did not even try to save her. She was put in prison and after an unfair trial, was burned at the stake. Joan was not even twenty. She had a great horror of fire. Yet she went bravely to her death on May 29, 1431. Her last word was "Jesus." Four hundred and eighty-nine years later, on May 16, 1920, Pope Benedict XV proclaimed Joan a saint. The life of this saint was marked by heroic courage for the sake of the mission that God had entrusted to her. We might call on the intercession of St. Joan of Arc especially when we need to accomplish a very difficult, nearly impossible task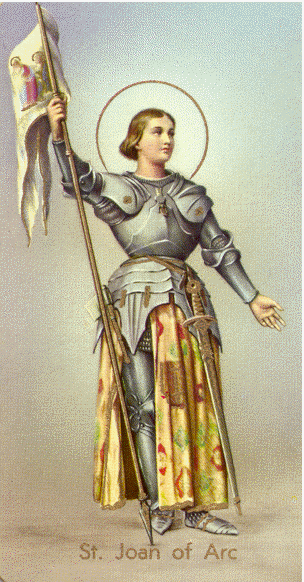 Be humble in your sleepy hands on this world.
Be a killer in Heaven.
Love,
Joe Nolan
Listen to Joe's music here.
Support this site! Buy Joe's music here...